
DAGGER Rewind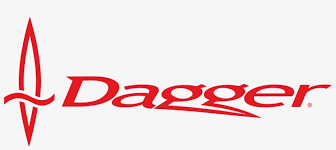 MODELL    Long         Width        VOLUME     WEIGHT 
SM             254 cm        62 cm         204 L         45 – 73 kg
MD             267 cm        65 cm         249 L         64 – 100 kg
LG             285 cm         69 cm         284 L         82 – 118 kg
MODELL    LÄNGE     BREITE    VOLUMEN    GEW.BEREICH
SM             254 cm        62 cm         204 L         45 – 73 kg
MD             267 cm        65 cm         249 L         64 – 100 kg
LG             285 cm         69 cm         284 L         82 – 118 kg
Dagger has a reputation of creating boats that not only define an era but stand the test of time; the all-new Rewind is an instant classic and an award-winner. The ultimate downriver play boat for paddlers of all abilities, the Rewind over-delivers on what boaters want and need from a modern whitewater kayak – piercing river running capabilities complemented by an exciting play-ability that allows you to add new tricks to your arsenal.
Read UK Kayakers' review of the Rewind which asserts "the Rewind could potentially be the boat that takes the crown for best current slicey boat."
Other sizes:  Rewind SM and Rewind LG.
Features ​
The ultimate downriver play boat
Great for whitewater paddlers of all abilities
Designed for Class I-V rivers
Ample bow volume and rocker ​for rapid resurfacing and maintaining speed after drops
Low volume stern for play​
Roto-molded seat with Contour Ergo outfitting for ultimate connection to boat
Ratcheting leg-lifter & backband adjustments​ for added comfort and control
Step out wall​ for added safety
Adjustable, comfortable thigh-braces & bulkhead footbrace with foam padding
Security grab handles
*Prices shown are manufacturer suggested retail prices, including taxes. Prices and availability may vary between country and retailers due to VAT and other taxes. Prices are subject to change without notice.

*Colors may vary slightly from those shown as each kayak that we produce is unique. Variations in color are not covered by warranty. Additionally, bungee cord colors and other fittings are periodically updated and may vary from what is pictured. You can purchase bungee cords (sold separately) in a variety of colors if you wish to customize the look of your boat.
Accessories
BIG (f.e Dagger Axiom, Lettmann Granate, Waka Kayaks, 90% of the Wildwaterkajaks) 
BIG (z.B. Dagger Axiom, Lettmann Granate, Waka Kayaks, 90% of the Wildwaterkajaks) 
16 other products in the same category: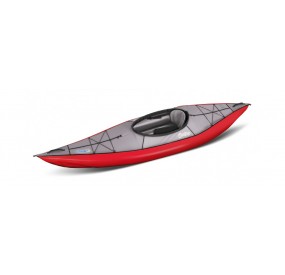 SWING 1 is a sit-in inflatable kayak great for relaxing trips on sheltered waters, harbours, lakes and rivers up to Gr. 2 white water. The kayak is supplied with two aluminium reinforcements for...
Rocky  ...he will rock you! With the Rocky we created the perfect simbiosis of our two favorite Creekers. It combines the Granate's stable and mild characteristics with the Manta's modern features....
A responsive kayak for whitewater rivers and play. The fast planing hull and full length rail provide speed and control, with tapered stern for tail dips. Outfitted for maximum control, the Axiom...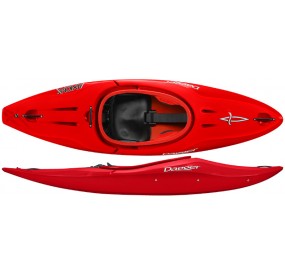 Specifications:Length: 6' 9" / 206 cm     Width: 22.5" / 57 cmBoat Weight: 25 lbs. / 11 kg     Deck Height: 10.5" / 27 cmCockpit Length: 27.75" / 71 cm     Cockpit Width: 17" / 43 cmVolume: 39 gal...
ENDURO 380 – the adventure starts here!  Short and agile! A true Allrounder! An unhurried tour on the lake, a sporty paddling adventure on a river or action in whitewater - the ENDURO 380 combines...
The Ripper takes the #FastIsFun ethos introduced by the 9R, and combines it with a playful stern for an extra dose of adrenaline. Standout features of the design are generous bow rocker for a dry...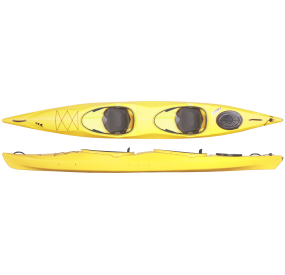 Completely redesigned for 2012 with a "Team Tested, Paddler Proven" heritage that's trusted by the most renowned instructors and paddlers in the world, the Mamba kayak offers serious refinements...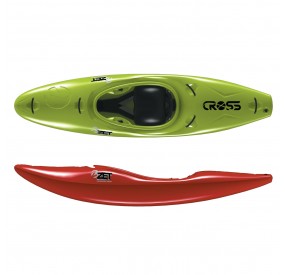 After much anticipation the team here at Zet are excited to present our latest and most innovative creek boat yet, The Cross.The Zet Cross is a sporty, stable and easy to maneuver kayak.  Its long,...
fon Machno, 53.064°, -3.779° the tributary that powers the infamous Fairy Glen, and just over an hour from Pyranha HQ, this is where initial testing for the Machno took place. The Pyranha Machno...